Baby Moses Wades In The Water
By: C.N.
Babies are so cute! Although I don't have any children, I love babies and am really good with them. I can't tell you how many times I've walked into rooms with babies crying, screaming, arms flailing, rolling across the floor, peeing like a sprinkler, pooping like a dog with too much fiber, and throwing up like they're going to win a trip to Disneyland for it. I don't know if it's my baby face, my sense of humor (goofy baby voices included), or just my nurturing nature-I can always seem to calm babies down, make babies smile, make babies laugh, and fall asleep in my arms (dawwwwww!). Children are a blessing from God (yes, even when they keep you up all night, parents! Haha), and it is our job and responsibility to care for them into (and sometimes past) adulthood. We have to be honest, though; not everyone likes (or needs to be anywhere near) children. There are some people (they shall remain nameless; you all know who you are!) who can't handle children, aren't good with children, and for some reason, wish to do bad things to children. Where there is evil, however, there is always good to overshadow it and save the day. That brings us to the story of Moses' birth (you know, the guy who God gave the Ten Commandments to, and who freed the Egyptian slaves from captivity-let my people go).
Moses was born to Levite parents, and his parents hid him from public view for three months. Why, you may ask? The Egyptian Pharaoh (that backwards nimrod of a King) wanted to kill all Hebrew sons, and Moses was just the kind of Hebrew son that Pharaoh wanted to do harm to (hey, Pharaoh, say hello to my little friend! Just kidding, kids. Say no to violence). As such, Moses' parents hid him from Pharaoh to save his life, and one day, when they couldn't hide him any longer, Moses' mother, Jochebed, put him in a basket, covered it with tar and pitch (dark slime), and put baby Moses' in the Nile River (baskets float in water, and Jochebed's sister watched the entire thing). Shortly after all of this, Pharaoh's daughter went to take a bath in the Nile River (they didn't have bathrooms, bathtubs, showers, of any of the luxuries that we have today), when she suddenly saw the basket carrying baby Moses in it. One of Pharaoh's daughter's female servants brought Baby Moses to her, and Pharaoh's daughter felt sorry for the crying baby Moses (there, there, Snookums) and had one of her female servants call Jochebed (erm, I think I have your baby). Pharaoh's daughter immediately hired Jochebed and paid her to take care of her baby boy (Yes! Raising children is a full-time job, and parents deserve payment for it). Jochebed and baby Moses were now safe, together again, and taken care of, under the supervision of the Egyptian princess herself. Once Moses grew older, Jochebed took him back to Pharaoh's daughter, Pharaoh's daughter took him on as a son, and officially named him Moses (I called him by his name throughout the entire story, because just calling him "that baby" until the end would've been rude. Haha). Let's look at this story from a modern perspective. NOTE; I will be using modern day language, technology, and ways of living in the story, as we're picturing this happening in the present day.
Baby Moses Wades In The Water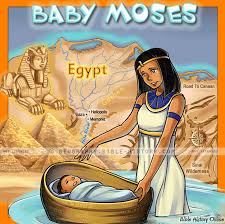 By: C.N.
Biblical Reference: Exodus 2:1-10 (KJV).
Jochebed (Moses' Mother): *Baby Moses is crying* Come here, baby. I know. It's OK. We won't let that big, bad Pharaoh do anything to you. Mommy doesn't play about her baby. If Mommy has to go Tasmanian Devil on somebody to keep you safe, then that's what I'll do. Mommy's going to keep you safe. We're going on a little trip.
Jochebed's Sister: Joche, what are you doing?!
Jochebed: Shhhh! I'm about to hide Moses in this basket, cover him in tar and pitch (so baby Moses won't be seen), and send him down the Nile River. Pharaoh is a power hungry maniac, running around here, ordering all Hebrew sons to be killed. Not my baby! Not the boy that I went through 89 hours of labor to push out! I don't think so! Over my dead body!
Jochebed's Sister: Where will he go?
Jochebed: He'll float to the other side, where he'll be safe. I want to get him out of here before Pharaoh or any of his minions (army) find him and try to hurt him. I'm a feisty female, and if you think that I'm going to sit back and let anything happen to my baby, you have another thing coming. I'll fight for my baby's life. Momma Bear is ready to pounce for her cub!
Jochebed's Sister: I'm with you on that one, Sis.
Jochebed: *kissing baby Moses* Mommy loves you, baby. I don't want you to get hurt. I'm sending you to safety. I'll be back for you as soon as the coast is clear. Love you, love you, love you.
Jochebed's Sister: *kissing baby Moses* Tee-Tee (Auntie) loves you too, baby. We'll see you again soon.
*Baby Moses, covered in tar and pitch and laying in a basket, floats across the Nile River*
Pharaoh's Daughter: I can't wait to take a bath! I smell like dirty sweat socks and death right now. I cannot. I must wash the stank away. *She proceeds to take a bath in the Nile River and notices a basket floating in the water.*-Cindy? Would you mind grabbing that basket in the water? I want to see what it is.
Cindy (Maid): No problem! *Cindy brings the basket to the Egyptian princess, and she notices baby Moses inside, crying*
Pharaoh's Daughter: Oh my goodness! It's a baby! You poor thing! What happened to you?! Why are you alone, in a basket, floating down the Nile River? You're a Hebrew child. Bless your heart. Cindy, find out who this child's mother is and call her right away. I need to talk to her pronto.
Cindy: I'm on it!
*Cindy finds Jochebed, and brings her before the Egyptian princess*
Pharaoh's Daughter: Ma'am, is this your child?
Jochebed: Yes it is. I sent him down the Nile River to keep your father and his cronies from killing him. He wants to destroy our Hebrew sons.
Pharaoh's Daughter: Believe me, I completely understand. I don't agree with anything my father does, especially when it comes to hurting others. I've tried to reason him on more than one occasion, but talking to him is like talking to a whoopee cushion-his head is too big, and he's full of hot air. I am my mother's child-no wonder she doesn't like him.  We women have to stick together. Girl power! I'm going to help you. You can stay here and raise your son. I'll pay you for it.
Jochebed: You're going to pay me to take care of my son?! Raising kids is a full-time job, but many people don't see it that way. Haha
Pharaoh's Daughter: *laughing* You're preaching to the choir, girl (Hallelujah!)! Yes, I will pay you to raise your son. I simply ask that when he gets a little older, I'm able to treat him as a son as well.
Jochebed: Of course, Princess. Thank you so much! God bless you.
Pharaoh's Daughter: God bless you as well.
*Jochebed raises Moses, and when he gets a little older, she brings him back to Pharaoh's daughter, who treats him like her own son and officially names him Moses.*
Pharaoh's Daughter: I shall call him Moses, because I drew him out of the water.
-C.N.