Come Get Your Son, Fred! The Prodigal Son
By: C.N.
Calling all parents! Calling all parents! For those of you who have children (especially those of you who have more than one child), you all know that children are different. Some children are just as sweet and obedient; they listen, they do their homework and chores without any problems, and they are just little angels. HOWEVER (and I know that all of you parents will back me up on this), some of these kids are hardheaded, ungrateful, and they think that they run something, when they don't pay a bill or have a pot to pee in-woosah, woosah. Peaceful meadows, peaceful meadows. These are the children that love to rebel, often get themselves in trouble, yet look for you to bail them out of their little predicaments. We love our children, and we do our best to raise and take care of them, but they sometimes don't realize how good their lives are (or the sacrifices that Mom and Dad make to give them the best lives possible), and they choose to run away from home and figure life out on their own. Such actions may work sometimes, but more often than not, things fail miserably (we're talking EPIC fails), and little Sara and Sammy come waddling back home. We are all God's children, and he loved us so much that he sent his darling son, Jesus Christ, to die for our sins so that we would not perish, but have everlasting life (paraphrasing John 3:16 (KJV)). God loves us despite our flaws, our failures, and our bad attitudes. When we sin (mess up and do bad things) and run away from home, Jesus is always waiting with open arms to take us back (sure, you just crashed my new car into a light pole, and that will be coming out of your allowance, but come here, baby!). All that we need to do is ask God to please forgive us of our sins, help us to stop sinning, believe that Jesus Christ is our Lord and Savior, ask him to come into our lives, and follow him forever. Just as Jesus loves us unconditionally (no matter what) and will allow us to come back home when we mess up, we are to love our children (and parents, for that matter) unconditionally and allow them to come back home, even when they mess up. This brings us to the Parable of the Prodigal Son in the Bible.
In the 15th Chapter of Luke,  we see a man with two sons, and the man has promised to give both of his sons a portion of his estate (they're getting dolla, dolla bills, y'all!). The older son was a patient young lad, working hard and waiting for his inheritance. The younger son, however, wanted his inheritance NOW (I don't want to wait until tomorrow, Daddy! I want it now! I want it now!); he had a rocket up his behind, and wanted to go to the moon this instant (two, one, blast off! Ooh, that tickles. Haha). Daddy dearest, loving his younger son, gave him his inheritance. You would have thought that the younger son was trying to beat Usain Bolt in the Olympics; that boy ran away from home so quickly! The younger son wanted to be free, he wanted to party, and he wanted to live la vida loca (get out of my head, Ricky Martin!)! He didn't need Pops, or so he thought. The younger son lived wild and free, spent all of his money, and went from being richer than Velveeta cheese to being so broke, he couldn't pay attention or buy a vowel on Wheel of Fortune (that's a shame. Haha). The younger son was so broke that he took a job feeding pigs (which was considered a "dirty job" during those times), and, get this, he actually wanted to eat the pigs' food (dang, Bro, you want a sandwich?). The younger son soon realizes that he loves his family, has made a terrible mistake, and he returns home and asks for his father's forgiveness and mercy. You would think that the father would be upset that his ungrateful son ran away with his money and blew it all, but that wasn't the case. Luke 15 :20-24 (KJV) reads as follows:
Luke 15: 20-24 (KJV): And he arose, and came to his father. But when he was yet a great way off, his father saw him, and had compassion, and ran, and fell on his neck, and kissed him. And the son said unto him, Father, I have sinned against heaven, and in thy sight, and am no more worthy to be called thy son. But the father said to his servants, Bring forth the best robe, and put it on him; and put a ring on his hand, and shoes on his feet: And bring hither the fatted calf, and kill it; and let us eat, and be merry: For this my son was dead, and is alive again; he was lost, and is found. And they began to be merry.
Ladies and gentlemen, not only was the father NOT upset with his son (his son didn't even think that he deserved to be his son anymore, but a mere servant), but when the father saw his son (Daddy had been waiting for him to come home), he ran to him, kissed him, put him in the best clothing, fed him, and threw him a party (celebrate good times, come on!)! That's true love. When the older son came home from work (with corns on his feet the size of Jamaica) and saw that his father had thrown a party for his younger brother, he became angry (and wanted to give his little bro more than just a swirlie). The father explained to his older son that he loved him, would always be with him, and everything that the father had, his son would also have (no Jerry Springer-type drama over here!). That was beautiful, man! The father and his sons are one big, happy family! I wonder how this story would have played out in modern times? My fiery fingers are ready to work! Showtime! NOTE: I will be utilizing modern day language, technology and ways of living in this story, as we're picturing this happening today.
Come Get Your Son, Fred! The Prodigal Son
By: C.N.
Biblical Reference: Luke 15: 11-32 (KJV)
*A man lives with his two sons, has promised both of them an inheritance, and the younger son is anxious to receive his inheritance now*
Younger Son: Hey, Pops? Can I talk to you for a second?
Father: Sure, Son. What's on your mind?
Younger Son: Pops, I'm ready to be on my own. I'm 18 years old and just graduated from high school; I'm a man now (even though you don't have a job, any money, any credit, and you're sleeping on Daddy's sofa). I know that you've promised Bro and I some money, but I want my money now. It's time for me to get my own spot and do my own thing. There's a party in the Hills this weekend, Keyshia is going to be there (oooh weeeee!!!), and it's about to be LIT! I can't miss it. Can I have my money now?
Father: Praise the Lord! You're getting out! I mean…sure, Son. I understand that you're a man now and want to find your own way. I'll always be here for you. Here's a check for $50,000. Please don't spend it all in one place. You need an apartment, a car, insurance, food, clothes, and all of your basic necessities. You need to follow up on these job interviews; being free isn't free at all.
*Daddy gives Sonny his inheritance, and the younger son instantly loses his mind. His brain just fell into Momma's flower pot, and he begins acting like he doesn't have any home training*
Younger Son: Sweettttttt! Thanks, Pops! I'm out. I'll catch you and Bro later (sooner than you think, Sunshine).
*The younger son blows his money quicker than babies blow spit bubbles, and he finds himself in need of a job at the Doggy Daycare*
Receptionist (with a voice that sounds like she's gargling Drano and Lysol wipes-OH NO): Can I help you?
Younger Son: Yes, ma'am. I need a job. I'm broke, I'm hungry, I need a shower (you do smell like Lilo & Stank), and I can't pay my bills. I'm willing to do anything. I"ll scrape doggy dookie off of the sidewalk if I have to. I'm desperate (Boy! Babyface and Jodeci have nothing on your begging).
Receptionist: You look like you have strong doggy dookie scraping arms. You have a deal, kid. This job pays $3.50/hr (he can't live off of that!).
Younger Son: I'll take it!
*The younger son works at Doggy's Delights for 2 months, is miserable, still broke, and realizes that he has made a terrible mistake*
Younger Son (to himself): God, please forgive me for not appreciating my Pops. He may not be able to give me everything that I want, but he loves me, he has taken care of my brother and I, and he would give his last for us. I have to go home. I can't live like this anymore. I'm going to apologize to Pops when I get home. I pray that he'll forgive me, in Jesus's name, Amen.
*The younger son has taken his head out of his behind, quits his job, turns his apartment keys back over to his landlord (that schmuck), and immediately runs home-he'd drive home, but his car ran out of gas and has a flat tire; he ain't got money for that!*
Father: I miss my boy. I wish that he would come home. I can help him with his college applications and give him a job in the repair shop in the meantime. That boy doesn't know what he's doing. God, if you will, please bring my boy back home to his family; in Jesus's mighty name I pray, give thanks, and ask it all, Amen.
*The younger son is right down the street from home, and his father spots him in the distance*
Father: Son!
Younger Son: Dad!
*They run toward each other, give each other a big hug and kiss (on the forehead, silly!), and cry those masculine, manly tears of joy. Their secret's safe with me*
Father: Praise God! I prayed that you'd come back home. We never wanted you to leave. I love you, man.
Younger Son: I love you too, Dad. I'm so sorry. I'm sorry that I didn't appreciate what you and Mom have done for Bro and I. The real world is a lot harder and a lot scarier than I thought it was (the show "A Different World" comes to mind), and I now realize what you and Mom go through everyday to take care of us. I appreciate everything that y'all have done for us, and I just hope that you'll forgive me. The way that I just took and blew your money away, I don't even deserve to be called your son.
Father: Apology accepted, Son. You'll always be my boy, no matter what! Take a shower and get dressed. It's time for a Carter family cookout! Now that we're all together again, I've been dying for you all to try my smoked strawberry cheesecake! Yeah, buddy!
Younger Son: Haha! Sounds good, Dad! I'll get in the shower now.
*The family has a cookout in the backyard-BBQ, dessert, the works! The older son soon gets in from work and smells the aroma coming from the backyard.*
Younger Son: Bro! How are you doing, man? It's good to see you! How was work?
Older Son: What are you doing here?! I thought that you had run away from home to be a man all of a sudden. We weren't good enough for you?
Younger Son: I'm sorry, Bro. I messed up. I came to my senses and came back home. I'm nothing without y'all! I love you, man!
Older Son (upset): I love you too, but you should have stayed where you were. This house was a lot quieter without you, there was a lot less drama, and I was about to turn your room into a personal gym. I have weights and dumbbells coming tomorrow.
Father (to his older son): Now, Son, let's be happy that he's home. We'll work on his mouth, I'll buy you some noise cancelling headphones, and your mother and I have a surprise for you-we've turned the den into a gym for you. My buddy even got me a great deal on an exercise bike. It's yours, completely paid for. Let's eat some BBQ and smoked cheesecake!
Older Son: WORD?! Okay, Okay. Thank you, Pops! I love you, Bro! Give me a hug (he proceeds to put his brother in a headlock, and they begin to wrestle like they've always done). Let's eat!
*The entire family enjoys the cookout, Dad's smoked strawberry cheesecake is THE BOMB (so good!), and everyone lives happily ever after…at least for today. Haha*
-C.N.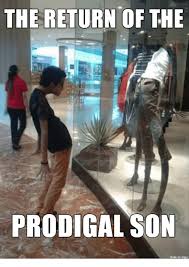 Saddleback Kids, "The Prodigal Son" (YouTube): https://www.youtube.com/watch?v=DJgROx4wFKM