Got Faith?
By: Carletta Traylor aka C.N.
By a show of hands (like I can actually see them. I'm so cray-cray! My two nicknames in high school were "Cray Tray" and "Tractor Traylor" I loved it! Haha), who remembers the "Got Milk?" commercials? Who didn't love seeing pompous, doofus-and-a-half "celebrities" strut around with a milk moustache (they actually thought that they were doing something impressive! HAHAHAHA. Y'all are some funny clowns! I was going to drink milk whether you dipsticks told me it was the "cool" thing to do or not. Stop giving yourselves so much credit. Haha)?
The purpose of these commercials was to encourage kids to drink more milk-milk builds strong bones, muscles, and teeth, and is also a great source of Vitamin D (no, not Vitamin Dipstick. The actual Vitamin D. Haha). When we drink milk, we increase our physical strength (that means we can lift a Styrofoam cup WITHOUT pulling a muscle, y'all! FLEX! Like a boss! Haha). With this being said, the greatest (and most important) strength we can ever have is spiritual strength-let's talk about faith, shall we (let's talk about faith, baby, let's talk about you and me, let's talk about all the good things…sorry. Haha)?
What is faith (I'm glad that you asked!)? Webster's dictionary (and Google. Haha) define faith as having complete trust or confidence in someone or something (such as God, a person, a thing, or an outcome). The Bible describes faith in the following way:
Hebrews 11:1 (KJV)-Now faith is the substance of things hoped for, the evidence of things not seen.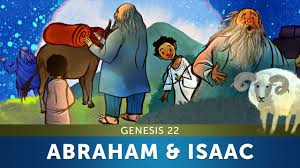 When we have faith in God (through our Lord and Savior, Jesus Christ), we fully and wholeheartedly (with all of our hearts, y'all!) believe that God loves us, wants what's best for us, knows what's best for us (eat rocks, Hogan and Chrisley! Haha), will protect us, and will provide for us (we'll be eating good in the neighborhood…Applebee's! Haha).
God loved us so much that he sent his darling son, Jesus Christ, to die on the Cross for our sins (bad things that we say, do, don't do, and/or think, that God doesn't like), that if we would trust and believe in Jesus, we would not perish (die in our sins and suffer eternal torment in Hell), but would have everlasting life (we'll be partying in Heaven with Jesus forever, y'all! Aye! Turn up! Ain't no party like a Holy Ghost party, 'cause a Holy Ghost party don't stop! Party over here! Ooh-ooh! Party over here! Ooh-ooh! Haha).
God always shows his love for us, and he wants us to return the favor-we show how much we love God by obeying him (listening to him and doing what he says) and ALWAYS having faith in him (we trust and believe in him at all times…and The Rock means at ALL TIMES! Sorry. Haha). God wants to know that we truly put him first in our lives, and as such, he will test our faith at times-he'll ask us to say and do crazy, wonky, ridiculous, illogical, and seemingly nonsensical things to prove our loyalty to him (people will think that we're nuttier than peanuts on an ice cream sundae, y'all! Mmmmm, sundaes. Sorry. I'm always thinking about food. Haha).
If we pass this test however, God will bless us GREATLY (he'll show us so much love/give us so much that we won't know what to do with ourselves, y'all! I'm running with PLASTIC scissors! I'm running with PLASTIC scissors! Haha). This brings us to the story of God asking Abraham to sacrifice his son, Isaac, in the Bible (God asked him to do WHAT?!?!?!?!?!).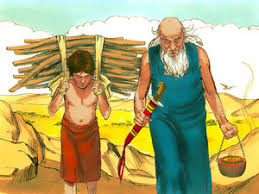 In the 22nd Chapter of Genesis (in the Holy Bible, God's Holy Word), here's the skinny (that's slang for "here's what's going on." Haha). God Almighty and Abraham had a very close relationship; Abraham feared God, he was obedient to God, and though not perfect, Abraham was always loyal to God (thata' boy, Abraham! Haha). God recognized how loyal Abraham was to him (that's a good boy! That's a good boy! *rubs Abraham's belly and gives him a Scooby snack* Haha), so much so, that God made a covenant (a divine promise and/or agreement) with Abraham, known as the Abrahamic covenant.
The Abrahamic covenant consisted of three promises from God to Abraham:
The Promised Land (Genesis 12:1 (KJV))-God directed Abraham to leave Ur and go to a place called Canaan. Canaan would later be renamed Israel, after Abraham's grandson (the Israelites are God's people, his homies, his homeboys, his road dogs, his ace boon coons, his Day Ones, his ride or die renegades, his buddies, his pals, his partners, his friends, his…sorry. I'll stop. Haha). God promised to give the land of Israel to Abraham's descendants (his family for generations and generations).
Lots of Children (Oh, the horr…I mean, JOY!)! Genesis 12:2 (KJV)-God promised Abraham that he would have so many children (children, grandchildren, great-grandchildren, etc.) that Abraham's family tree alone would create many great nations (Nations of babies! Nations of babies! Presenting, King Flock-a-Snot! Bring that man some Kleenex and a Klondike bar (what would you do for a Klondike bar?! Haha)!). Abraham's descendants would become great kings/queens, rulers, and people of influence throughout Israel. FUN FACT: This is the moment where God changed Abram and his wife, Sarai's, names to Abraham and Sarah, which mean "father of many nations" and "mother of many nations," respectively.
Blessings Galore! Genesis 12:1-3 (KJV)-God promised to bless (take care of) Abraham and his descendants (the FAM, y'all!) for all eternity. To seal the deal with God, God asked Abraham to remove both his own foreskin, as well as the foreskin of his sons and male servants. This process is known as circumcision, and is still widely practiced in the Jewish community today.  NOTE: Circumcision is NOT a requirement to be in God's good graces and receive his blessings. For us to be saved and see Heaven when we die, the process is as simple as ABC:

Admit that we're sinners, and ask God to please forgive us of our sins and help us to stop sinning (Please clean me up, Lord! I'm hot garbage, dipped in excrement, sprinkled in chitling grease on the inside (just STANKY!)!).
Believe that Jesus Christ is God's son, that he died on the Cross for our sins, that he rose from the dead (3 days later) with all power in his hands, that's he's in Heaven with God Almighty, and that he's coming back to take his children (all believers in Jesus Christ) home (to Heaven) and to judge/destroy this world.
Commit ourselves to Jesus Christ (listen to him, follow him, and live for/like him, forevermore).
Once God made this covenant with Abraham, he wanted to test Abraham's loyalty (Aye, yo, Abraham?!?! Let me holla at you, player! Do you love me? Will you always trust me? Do you believe that I know what's best for you? How deep is your faith (please don't start singing the Bee Gees; it's too early in the morning for that. Haha jkjkjkjk)?). As such, in Genesis 22, God tempted Abraham. God made the following request of Abraham: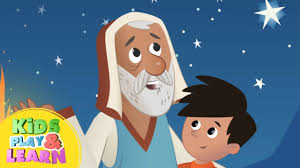 Genesis 22:2 (KJV)-And he said, Take now thy son, thine only son Isaac, whom thou lovest, and get thee into the land of Moriah; and offer him there for a burnt offering upon one of the mountains which I will tell thee of.
You heard that right, folks! God, in a test of Abraham's faith, just asked Abraham to kill his only son, his baby boy, Isaac! Just to put this into context, Sarah was barren (meaning that she could not have children) for 90 years. Abraham and Sarah always wanted a child, but they could never have one. However, due to their unwavering faith in God (they constantly prayed to God about having a child), God blessed them with a child, Isaac, at the tender ages of 100 (Abraham) and 90 (Sarah)! Don't start cracking jokes about them being too old to have children (they were spring chickens! Haha); if God wanted them to bring life into the world, he was going to make sure that they could handle the responsibility! Haha.
Isaac was Abraham and Sarah's miracle baby-they were overjoyed to finally have a little rugrat of their own (what's good, Tommy Pickles?! Haha)! They loved Isaac as much as two parents could love their child-they would lay down their lives for their boy. As such, when God asked Abraham to kill Isaac, I'm sure that it came as a shock to everyone.
Before we all start losing our cherry picking minds and accusing God of being a cruel, inhumane, unloving, uncaring father, let's get to the end of the story to see what God's ACTUAL intentions were, and to see what ACTUALLY happened. Breathe in, breathe out! Woosah, woosah. Peaceful meadows, peaceful meadows. Remember the Lamaze breathing (the breathing that pregnant women do to relax and relieve contraction/labor pain…yeah, ok. Haha)-oo-oo-eei; oo-oo-eei! Haha.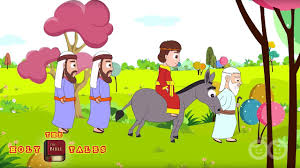 Abraham, being the loyal servant to God (the ride or die gangsta! Sorry. Haha) that he was, obeyed God's command (yes he did! He didn't question God or anything…Abe's a trooper! There's no telling what I would have done; I probably would have started acting a fool; clowning to the extreme! I'm just being honest here. Haha). As such, Abraham got up early the next morning (while it was still dark), prepared his donkey, grabbed wood for the burnt offering, took Isaac and two of his male servants, and made the three-day trip to Moriah.
Once Abraham and Isaac were close to the mountain, Abraham directed his servants to stay with the donkey, while he and Isaac went to the top of the mountain to worship God (Abraham, you half-truth telling dipstick! Don't lie to them like that! You went to sacrifice Isaac! Please forgive me, Lord (please take the wheel, Jesus!); y'all know that I'm crazy and need help. Haha). As Isaac and his father were making their way to the mountain, Isaac asked his father where the burnt offering was (it's YOU, Isaac!!!!!), to which Abraham replied:
Genesis 22:8 (KJV)-And Abraham said, My son, God will provide himself a lamb for a burnt offering: so they went both of them together.
HAHAHAHAHAHA. Way to deflect and not answer the question, Abraham! We know that God the Father directed you to kill Isaac, but let's just lie to the boy and pretend like we don't know that. Then again, that might have been the best answer to give-you didn't want Isaac to find out that he was about to become crispy bacon and start running; you knew that your old…er self couldn't catch him (that boy could run! Watch out, Usain Bolt! Haha).
Once Abraham and Isaac made it to the top of the mountain, Abraham built an altar (a place of worship) for God, put the wood in place, he proceeded to bind Isaac (he tied him up, y'all! What must have been going through Isaac's mind?! Is this old man crazy?! Has Dad finally lost it?! What are you doing, Dad?! This isn't funny! You know that I hate pranks! If I make a run for it, he'll never catch me! Eat my dust, Dad! I'm telling Mom! Mommmyyyyyyy!!!!!!), he placed Isaac on the altar upon the wood, and just as he was about to slay his son with his knife, God stopped him in his tracks!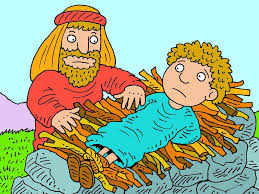 Genesis 22:11-13 (KJV)-And the angel of the Lord called unto him out of heaven, and said, Abraham, Abraham: and he said, Here am I. And he said, Lay not thine hand upon the lad, neither do thou any thing unto him: for now I know that thou fearest God, seeing thou hast not withheld thy son, thine only son from me. And Abraham lifted up his eyes, and looked, and behold behind him a ram caught in a thicket by his horns: and Abraham went and took the ram, and offered him up for a burnt offering in the stead of his son.
Hallelujah! Praise the Lord! Thank you, Jesus! God is good! God saw that Abraham was loyal to him, despite his extreme request, and as such, he saved Isaac's life. God instructed Abraham to not lay a hand on his son (keep your hands off of my boy, boy! Haha) or harm him in any way; God instead directed Abraham to sacrifice a ram to him, which Abraham did. Isaac is alive! Isaac is alive!
To be clear, God never intended to kill Isaac (God was not going to allow Abraham to kill his son); God already knew that he was going to have Abraham sacrifice a ram in Isaac's place. God simply wanted to test Abraham's faith in and loyalty to him-would Abraham be willing to kill his precious baby boy, his miracle child, the fruit of his loins, just to please God? Abraham proved that he was the ultimate rough rider for the Lord (He was a "g" for G-O-D! Haha), that his faith could not be shaken, and that he was willing to do whatever God asked of him, regardless of how crazy it seemed (Yes, I'll obey you, Lord! My answer is YEEESSSSSS!!!!!).
As much as Abraham loved his son, Isaac, he loved God even more (this is how God wants all of us to be today; God should be first in our lives, above everyone and everything. God should be first; family should be second). Due to Abraham's undying faith in God (he passed that test with flying colors, y'all! Goal! Grand slam! Touchdown!!!!!! Haha), God blessed Abraham and his descendants greatly-they inhabited the Promised Land, Abraham's family grew at a stupidly quick pace (kids are flying everywhere! Run for cover! Mommyyy!!!!!! Haha), and many of Abraham's descendants went on to become great kings/queens, rulers, and people of influence in Israel (aye!).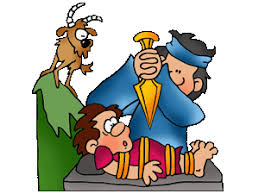 As we can all see, it pays to have faith in God (cha-ching! Haha). When we love God with all of our hearts and souls, trust and believe in him (through our Lord and Savior, Jesus Christ), and are willing to obey and follow him at all times-regardless of how uncertain, crazy, ridiculous, or nonsensical it may seem-God shall reward us greatly (aye! Holy Ghost turn up! Ain't no party like a Holy Ghost party, 'cause a Holy Ghost party don't stop! Party over here! Ooh-ooh! Party over here! Ooh-ooh! Haha).
Given the length of today's story, I will not do a modern-day remix (good! We're sick of listening to you ramble on and on, Carletta! Haha). I can't leave my peeps hanging, though (I'm not that trifling! Haha)! I have instead included a cute video from KidsHubTV, summarizing the story of Abraham and Isaac beautifully.
KidsHubTV-Abraham Tested (YouTube):
I hope that you all have enjoyed today's post! I love you all, God bless you all, and I'll see you all on the next one!
-Carletta