Don't Be a Distracted Ditz!
By: Carletta Traylor aka C.N.
Alas! The "Are These Women Crazy?!" series has officially begun (I'm a woman, and I'm more coo-coo than Cocoa Puffs! Where's my almond milk?! Haha)! To begin, I'm not using this Bible series just to pick on women; I will be following up this series with a "Are These Dudes Nuts?!" counterpart (I'm an equal opportunity life roaster. Haha). When God created us, he gave us free will-the ability to think for ourselves and make our own decisions. God knew that some of us wouldn't be able to handle such privilege-we would start acting like wild orangutans (ooh-ooh, ah-ah! That's why some people believe in Evolution; we do act like apes at times. Haha), would delve into every area of sin (bad things that we say, do, don't do, or think) that we could think of, and would focus on the wrong things (who cares if your socks smell like Axe when they come out of the pack?! Haha). When we focus on the wrong things, this often leads to everyone's favorite….worry.
When we worry about someone or something, we think about that person or thing all the time, non-stop, without a break in between (we drive ourselves up a wall thinking about it/him/her!). We've all thought about someone or something so much (whether it be work, money, our families, our health, finding love, the state of the world, etc.) that we can't think of anything else and are completely distracted from what's truly important (why are you worrying about how your hair looks when a Ford F-150 is flying through your front window?! That man isn't paying you any mind! Goofy! Haha). When we allow our minds to run rampant (run like the wind, Bullseye!), we tend to lose focus of the most important thing in our lives-our relationship with God, through his son, and our Lord and Savior, Jesus Christ. This brings us to the story of Jesus entering Mary and Martha's house in the Bible.
In the 10th Chapter of Luke, Jesus (with his disciples) is in the middle of his three-year earthly ministry (teaching and preaching about the Kingdom of God). Mary and Martha, who are sisters (we remember when Jesus raised their brother, and his buddy, Lazarus, from the dead->"All Rise! That Means You, Lazarus."-https://jesusbedtimestories.com/all-rise-that-means-you-lazarus/), have opened up their home to Jesus-Jesus is here! Jesus is here! Jesus is here! During those days, it was custom for Jewish women to prepare the rabbi's (teacher's) food and clean up their homes while the rabbi was present. While Martha was running around like a chicken with its' head cut off (where's the vacuum?! Where's the duster?! Where's the good china?! Slow down, girl! Haha), Mary immediately sat at Jesus's feet-the Savior of the world was in her home, and she wanted to spend time with, learn from, and build her relationship with him (Mary is smarter than a 5th grader, y'all! Ding! Ding! Ding! Winner! Jackpot! Here's what you've won! Haha). Mary was a rebel (bump the rules! I'm pretty and radical! I'm talking to Jesus right now! The Messiah's in the house! Ooh! Ooh! He's in the hizzy fo-shizzy! Ooh! Ooh! Sing along now: My God! My God! My God! Talking about my God! My God (The Temptations don't have anything on Jesus Christ! Haha)!), but she didn't care-she wanted to spend time with her Savior (my girl! Haha).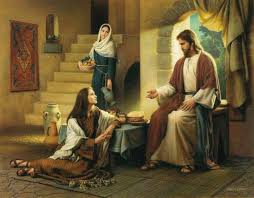 While Mary was sitting at Jesus's feet, Martha was more concerned with serving the lamb chops and juice; this fool had the audacity to ask Jesus the following question:
Luke 10:40 (KJV): Lord, dost thou not care that my sister hath left me to serve alone? bid her therefore that she help me.
Really, Martha?! Really?! Really?! Did you just seriously ask Jesus if he cares that Mary left you to do all of the cleaning and serving? Furthermore, did you seriously just tell Jesus Christ, the MESSIAH OF THE WORLD, to tell Mary to come help you serve your little funky fish sticks?! I guess we shouldn't be surprised that Martha was stuck on stupid, as she's the same one who starting popping off at the mouth about Lazarus STANKING (from being dead and buried for four days) when Jesus asked her to roll the stone away from his gravesite (Jesus didn't ask for your opinion, clown! He told you to roll the stone away! He's about to raise your brother from the dead! Haha). Jesus knew that Martha was a hot and discombobulated mess, but instead of getting upset with her, Jesus responded as follows: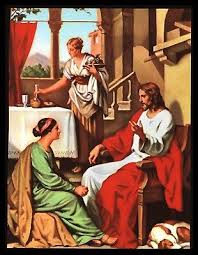 Luke 10:41-42 (KJV): And Jesus answered and said unto her, Martha, Martha, thou art careful and troubled about many things: But one thing is needful: and Mary hath chosen that good part, which shall not be taken away from her.
Jesus explained to Martha that she was worried about a million different things, but the thing that she SHOULD have been concerned about, and which Mary was concerned about, was getting her life right with God; we are to concern ourselves with repenting of our sins (turning away from our sins), believing that Jesus Christ is God's son, died on the Cross for our sins, and rose on the 3rd day (with all power in his hands), committing ourselves to following him, and putting him first in everything that we do, that we will not perish, but have everlasting life (paraphrasing John 3:16 (KJV)). We'll be partying in Heaven forever, y'all (ain't no party like a Holy Ghost party, 'cuz a Holy Ghost party don't stop! Haha)!
Mary cared about spending time with Jesus-God wants our attention and time (prayer, reading his Holy Word (the Bible), going to Bible study, etc.) over just merely doing things for him (baking cookies, singing in the choir, being a deacon, being a pastor, etc.)-, which is what he wants from us. Jesus wants our hearts and for us to truly know and want to learn more about him, not just do things for him because we "think" that is what we should do. Jesus explained to Martha that Mary was concerned about the right thing (the good part), knowing him, and this would never be taken away from her (this would ensure Mary's place with him in Heaven forever. Hallelujah! Haha). Knock it off with the unnecessary distractions, Martha! Haha
This is my stuff, y'all! My remix-o-meter is going crazy right now! Haha I wonder how things would have played out had this story happened today? Let's find out! NOTE: I'll be utilizing modern-day language, technology, and ways of living in this story, as we're picturing this happening today.
Don't Be A Distracted Ditz!
By: Carletta Traylor aka C.N.
Biblical Reference: Luke 10:38-42 (KJV)
*Jesus Christ and his disciples are traveling throughout Jerusalem, teaching and preaching about the Kingdom of God (Jesus is about his Daddy's business, y'all! Haha). Two sisters, Mary and Martha, have invited Jesus into their home (the Savior is here! The Savior is here! Pop the Sunny D!), but their reaction to him is very different. Martha is worried about cooking, cleaning, and serving Jesus's food (it was custom for Jewish women to cook and clean while a rabbi (teacher) was in their homes), while Mary drops everything and sits at Jesus's feet-she wants to grow in her relationship with her Lord and Savior (thata' girl! Haha). Martha wants Mary to help her serve the food, but Jesus sees things a little differently*
Martha (talking to herself): I can't believe that Mary isn't in here helping me cook, clean, and serve Jesus's food! All she does is lay up, sleep, and watch reality TV (if I see one more episode of Living With the Kardashians, I'm going to scream! That show is TRASH with a capital TRASH! Haha). Jesus is hungry, and all she's doing is sitting at his feet, talking his head off, and probably making him wish he had taken that $15 trip to Jamaica after all (jerk chicken for everyone! Mmmm, jerk chicken. Haha). Let me get her lazy behind in here.
*Martha meets Jesus and Mary in the living room-they took the plastic off of the couches before Jesus arrived. Smart women. Haha*
Martha (to Jesus Christ): My Lord, I don't mean to bother you, but doesn't it bother you that my sister is just sitting here like a squatter, doing nothing, talking your head off (listening to what she wants to listen to-y'all know that she has selective hearing), while I'm in here slaving over a hot stove? She knew that you were coming and that you'd be hungry, yet she hasn't done anything to get your food to you any faster-made you a plate, brought you some rolls, offered you a bottle of water, nothing! Please tell her to come in here and help me!
Mary: I will do what you say, my Lord.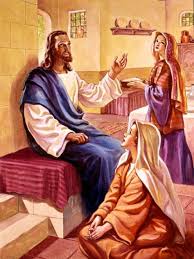 JESUS CHRIST: Martha, Martha, thou art careful and troubled about many things: But one thing is needful: and Mary hath chosen that good part, which shall not be taken away from her.
Martha: What do you mean, Lord?
JESUS CHRIST: Mary has sat at my feet because she wants to learn from me; she wants to grow in me; she wants to develop a closer relationship with me. One cannot see Heaven if he or she doesn't know me. A person can say that he or she is doing many things to please my father (God Almighty)-pastoring a church, singing in a choir, fasting, cooking, cleaning, etc.-but if that person does not spend time with me and get to know me on an intimate level (truly knowing God through prayer, reading the Bible, attending Sunday School, attending Bible Study, attending Sunday morning service, etc.), his or her activities don't mean a thing to me. I want your heart, not just your action. Mary realizes this and is sitting here to learn from me; this is what I want, and no one will ever be able to take that away from her. *Sit it down, Martha! Haha*
Martha: I'm so sorry, my Lord. I've been so distracted lately that I haven't been focusing on you like I need to. I've been worrying myself crazy about work, money, wanting to get married, wanting to have a family of my own, and so many other things; I haven't been spending enough time in your presence (that would explain why your prayer mat is brand new and your Bible is collecting dust in the corner. It's the bread of life, not a coaster (get that Pepsi off of it! Haha)!). Please forgive me, Lord, and help me to do better. May I join you all?
JESUS CHRIST: You are forgiven, my dear daughter. Please join us.
*Martha sits herself down (finally!), and she and Mary have a wonderful conversation with Jesus. Mary and Martha both serve Jesus, Jesus absolutely LOVES the meal (they really put their feet into that shrimp fettuccine, y'all! YASSSSS, baby!), and the sisters truly get to know Jesus on a more personal level. Jesus Christ is our Lord and Savior, but he's also our friend. He knows what we're going through; he feels our pain; he loves us and will always be here for us. Praise the Lord for that (Lord knows I need help. Haha)!*
I hope that you all enjoyed today's story! I love you all, God bless you all, and I'll see you all on the next one!
-Carletta