King Solomon: The Baby Whisperer!
By: Carletta Traylor aka C.N.
Women are crazy, they cause you to lose sleep; they get too excited 'bout nonsense for me (and I'm a woman. Haha); Whoa oh-oh, crazy, and the thrill's not right, I might just snap like fingers if you keep me up all night (and yes, I did just remix Britney Spears' song, "You Drive Me Crazy." I'm not the same person I used to be; don't judge me! Haha). It's Day#2 of my "Are These Women Crazy?!" series, y'all (I'm so excited!)! On Day#1 of this series, we explored when Jesus visited Mary and Martha at their home ("Don't Be A Distracted Ditz!"->https://jesusbedtimestories.com/dont-be-a-distracted-ditz/); while Mary had the sense of a bat and chose to sit at Jesus's feet and learn from him (I always knew that I liked Mary. Haha), Martha was too worried about serving the food (do you not see Jesus Christ, our Lord and Savior, the Messiah of the world, sitting in your living room?! Put the tray down! We'll spit up your food and serve it to the dog on the "hush-hush" later on. Haha). The Bible is full of "women gone wild" y'all (and we're not talking Cancun or polka dot bikinis, either! Haha)! As if scatterbrained Suzy wasn't goofy enough (no offense to anyone named Suzy. Haha), we now have two women (one normal woman, and one cornball crazie) fighting over a baby (Lord Jesus, please help us all. Haha). This brings us to the story of King Solomon and the baby in the Bible.
As some of you might recall from one of my earlier posts, "You're A Wise Sunflower, Solomon,"->https://jesusbedtimestories.com/youre-a-wise-sunflower-solomon/), Solomon became the King of Israel at a very young age (look at that peach fuzz on his chin, y'all! You don't need to shave, boy! No one can see that one little chin hair. Haha). Solomon believed in and prayed to God, and while he could have asked God for anything (most kings asked for fame and fortune), Solomon asked God for wisdom to know right from wrong, to make the right decisions, and to please God in how he led God's people (the Israelites). In other words, Solomon knew that he didn't know what he was doing as King, and he asked Daddy for help (that boy was smart! Haha). God was extremely happy with Solomon's prayer (that's my boy!), and he blessed Solomon to be the wisest man who has ever lived (of course, not wiser than Jesus Christ or God Almighty himself, but the wisest man among us common folk. Haha). To whom much is given, much is required. God immediately put Solomon's wisdom to the test, and in come the looney ladies!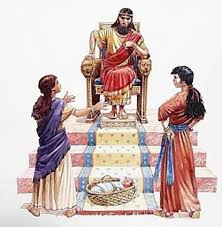 In the 3rd Chapter of 1 Kings, King Solomon is confronted by two women of the night (they were scandalous, y'all! Haha); they lived in the same house (just the two of them) and were both mothers to infant sons (dawww, he's so cute! I could just pinch his widdle cheeks! He might slap me though-who are you, fool?! Don't touch me! WACK! Haha). In a tragic accident, one of the babies died when his mother accidentally laid on and smothered him (how do you "accidentally" smother your baby?! I should "accidentally" crash through your living room wall with my 18-wheeler. Whoops! My bad! Haha); the mothers are now fighting over which of them is the living baby's mother (TNT doesn't have anything on this drama!). The first woman claims that the second woman smothered her son, switched the babies while the first woman slept, and when she (the first woman) woke up to breastfeed her baby, she realized that the baby 1) wasn't her son, and 2) was dead. In classic Jerry Springer/Maury fashion (I don't even watch those shows. Haha), the second woman denied these allegations and claimed that the living baby was hers (King Solomon has his hands full, y'all! This must have been the inspiration for Brandy & Monica's hit song, "The Boy Is Mine." Haha).
King Solomon had a seemingly early "Are These Dudes Nuts?!" moment when he suggested getting a sword and cutting the living baby in half-give half of the baby to the first mother, give half of the baby to the second mother (WHATTTTTTTT?!?!?!?!?! Over my dead body, scrub! King or not, I'm going to jail if you touch my child! Haha). No worries, though; Solomon was just bluffing (he wasn't going to make such a RIDICULOUSLY STUPID decision; God had just given him wisdom, and he wasn't going to squander it that quickly. Haha). Solomon was using this tactic to see how the two women would react-he knew that the true mother would react very differently than the impostor would (Amen!).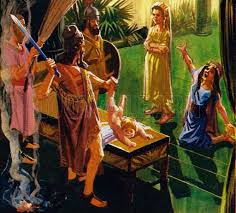 The mother of the living child begged King Solomon not to kill her son, and to just give her son to the other woman–she wanted to spare her baby's life. The impostor mother, on the other hand, didn't want either of them to have the baby, and wanted King Solomon to go ahead and kill the baby (oh no she didn't! If I were there, I would've shoved my foot so far up her backside, she would've been throwing up my toenail polish as blood! No one kills my baby! Haha). King Solomon now knew who the true mother was, and ordered that the baby be given back to his mother, unharmed (Hallelujah! Thank you, Jesus! God is good!). God had given Solomon great wisdom, and he used it to save a young boy's life (I would like to know what happened to the impostor mother, though. I have a bag of slaps for her. May the tushy thrashing commence! Haha).
BOY! Some of these women are coo-coo for Cocoa Puffs, y'all! I thought that I was crazy, but these lunatics make me seem halfway sane (not fully sane, but halfway. Haha)! This modern-day remix is calling my name, y'all (write me, Carletta! Write me, Carletta! You know that you want to! You know that you do!)! I'm here for you, baby. I wonder how this story would have played out had it happened today? Pour up your Fruit Loops (I know that some of y'all just woke up! Don't deny it! Haha), get in front of the AC (we're all hot and bothered in less than exciting ways. Haha), and let's get to remixing! NOTE: I will be utilizing modern-day language, technology, and ways of living in this story, as we're picturing this happening today.
King Solomon: The Baby Whisperer!
By: Carletta Traylor aka C.N.
Biblical Reference: 1 Kings 3:16-28 (KJV)
*Solomon is the new King of Israel, and he's more clueless than Stacey Dash (take that how you will. Haha). He realizes that he doesn't know how to lead God's people (the Israelites), and as such, he asks God to give him the wisdom to know right from wrong, make good decisions, and please God with his reign (that's a good boy! Haha). God gives Solomon supreme wisdom (he's the smartest common dude to have ever lived—God Almighty and his son, and our Lord and Savior, Jesus Christ, don't count; they weren't common, and they OBVIOUSLY know more than everyone, including that scrub, Solomon. Haha). Solomon's wisdom is immediately put to the test when two women fight over which of them is a living baby's true mother. Code 10! Code 10! The inmates have left the asylum! The inmates have left the asylum! Haha*
Laverne (Woman 1): King Solomon, this woman is a murderer and a thief! First of all, she and I are roommates in a 2-bedroom apartment in the middle of New York City (y'all must be rolling in the dough! Living in New York isn't cheap! Haha), and we both recently gave birth to baby boys. She put her baby in the bed with her, fell asleep, and accidentally slept on top of him, killing him (oh no!). My son was in his crib right next to my bed, and around midnight, this lunatic snuck into my room, switched my living son for her deceased son, and when I woke up this morning to breastfeed him, I realized that he wasn't my son—AND HE WAS DEAD! I'M TRAUMATIZED RIGHT NOW! How could you be so careless to smother your son?! You MONSTER!!!!
Shirley (Woman 2): That's not true, King Solomon! I would never smother my child; I loved my son. When he cries, I sit in the chair and rock him to sleep-I know the risks associated with putting a baby in the bed with you, and I would never do that (I'm no baby killer!). I had my son in his crib right next to MY bed, and when I woke up, SHE had switched HER dead baby for my living baby-I may never sleep again! I'm having daymares (daymares? Did you just make that word up?! Haha) now, and I'm sure that I'll have nightmares tonight!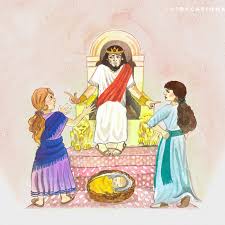 Laverne: You're such a liar! I would never be so careless with my child!
Shirley: Why are you so angry right now, Laverne?! You seem OFFLY defensive for someone who hasn't done anything wrong! If I didn't know any better, I'd say-
Laverne: You shut your mouth right now, Shirley (rudeness. Haha)! I didn't smother my child! Keep acting like you haven't done anything wrong, and watch me hop over this table and-
King Solomon (he's had enough!): Alright! Alright! Alright! That's enough! I've heard enough of this nonsense! You both claim to be innocent flowers who would never kill your children, and you both claim that the other killed her baby and switched her dead baby out for your living baby. This entire situation makes me sick to my stomach. Here's what we're going to do: I'm going to cut the baby in half and give each of you half of a baby.
*King Solomon isn't ACTUALLY going to kill the baby; he's just saying this to see how Laverne and Shirley will react. He has watched enough T.V. to know a genuine mother's reaction from a fake mother's reaction. Smooth. Haha*
Laverne: Please don't kill my son, King! I love my son and would do anything for him. Look, just give my son to Shirley. I don't want my baby to die. I didn't go through 112 hours of labor to have my baby brutally murdered because some LUNATIC doesn't know how to properly shift her body weight at night! Please just give my son to Shirley, King.
Shirley: Bump that, King! Go ahead and kill the little brat! If I can't have him, then neither one of us can have him!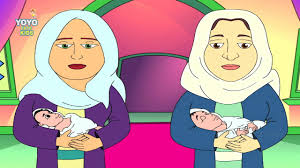 King Solomon: Laverne, I can tell that you're this child's real mother. I'm so sorry that you even went through such a terrible and traumatizing experience. I will pray for your physical, mental, emotional, and spiritual well-being; I'm a parent myself, and I could never dream of someone trying to do such a thing to my child. If you need anything-money, food, clothes, counseling-, you just let me know. I will gladly help you. God bless you, my sister.
Laverne: Thank you so much, King! God bless you as well!
Shirley: That's not-
King Solomon: Zip it, Jezebel! How dare you carelessly smother your child, try to kidnap this poor woman's child, traumatize her before she's had her morning coffee, make it seem like you haven't done anything wrong, and try to blame her for YOUR wrongdoing! Boys, arrest this woman for involuntary manslaughter, attempted kidnapping, and perjury; you're going to jail for a long time, sweetheart! You better get used to wearing an orange jumpsuit (and it won't be as fashionable as the jumpsuits they wear in Orange Is The New Black either! Haha), having your head look like a used mop (no salon for you!), and eating lunch with a woman named Bubba. You DISGUST me! Take her away, boys!
Shirley: NO! Please! I'm innocent! I haven't done anything wrong! You can't do this to me! I'm too cute to go to jail!
King Solomon: Na-na-na-na, na-na-na-na; hey, hey, hey, hey, goodbye! Sing along, Laverne!
King Solomon and Laverne: Na-na-na-na, na-na-na-na; hey, hey, hey, hey, goodbye!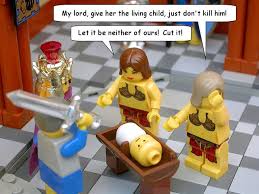 *Shirley went to jail (AHHHHH! That clown and a half! Hahahahahahaha!), Laverne went home with her beautiful baby boy, and a private funeral was held for Shirley's deceased son (rest in peace, sweet baby. You're now safe and secure in Jesus's arms-Heaven has gained one of its' most precious angels). Word quickly spread about King Solomon's wise decision, and King Solomon became one of the most respected and feared leaders in Israel's history. Hallelujah! Praise the Lord! Thank you, Jesus! God is good!*
-I hope that you all enjoyed today's story! I love you all, God bless you all, and I'll see you all on the next one!
-Carletta