Don't Be Salty!
By: Carletta Traylor aka C.N.
Let's be real here: we all come from nutty families (we're all a few fries short of a Happy Meal, if you get my drift. Haha). There are levels of crazy, from "dawww, look at him flying face first into the wall because he wants to see if he's truly hardheaded" to "call the people, Joe! This fool is trying to start a bonfire on the roof!" Even if we don't want to admit it (or name names), we all have family members (it might even be us. Haha) that should be known at the nuthouse on a first name basis (don't deny it! Haha).
Some of us have that crazy Uncle Mike who regularly falls through kitchen tables because he SWEARS he's still in the War, and he KNOWS that biscuit is an enemy grenade (I'm going to need you to replace my $300 table, Uncle Mike!). Some of us have that goofy cousin Patty who will shoot 7 rounds into a single ant for dare getting anywhere near her strawberry cheesecake ice cream (it's just an ant, Cousin Pat! Calm down! You just woke up the entire neighborhood over a $0.99 tub of ice cream that YOU left out all night, that YOU let melt, that YOU spilled, and that YOU invited the ant to eat! Sit your crazy behind down! This isn't Kill Bill! Haha). In light of today being Day#5 of my "Are These Women Crazy?!" series, we're going to look at an entire family of Looney Tunes (what's good, Bugs Bunny?!).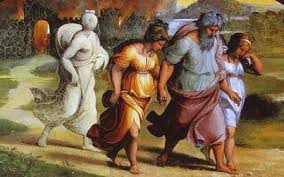 It's one thing to have to deal with one crazy woman on a daily basis (breathe in, breathe out. Haha), but it's another thing to deal with three batty Betsies at one time-that's a trifecta of raging maniac (woosah, woosah; peaceful meadows, peaceful meadows. I know that you're a guy, but we're going to practice our Lamaze breathing (the breathing that pregnant women do to relax and feel less pain)-hee, hee, hoo; hee, hee, hoo. Haha). If you're not ready to punt a Build-A-Bear after dealing with that chaos all day, YOU ARE A WINNER! YOU ARE THE MAN/WOMAN! Haha With this in mind, let's delve into the story of Lot's wife and daughters, shall we?
The story of Lot is outlined in Genesis 13, 14, 18, and 19-one book of the Bible wasn't enough to contain all of that crazy. Haha In the 13th Chapter of Genesis, Abram and Sarai (later renamed Abraham and Sarah), along with their nephew, Lot (his name was still Lot. Haha), left Egypt to avoid a famine (there's nothing to eat, y'all! Road trip! I call shotgun! Haha). They went south and built an altar between Bethel and Hai, but they soon realized that the land wasn't big enough for both of them, as both Abram and Lot (both holy men of God) owned a lot of cattle (they were swimming in cows, y'all! Haha)-it's all about the buffaloes, baby. Haha. To avoid a family feud (welcome to Family Feud! Here's your host, Steve Harvey!), Lot decided to settle in Sodom (a wicked place; a cesspool for sinners. Haha), and Abram decided to settle in Canaan (the Promised Land! God's going to take care of Abram and his people, y'all!).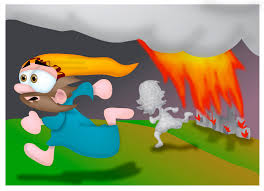 Lot soon started to question his life choices, as the kings of the lands surrounding Sodom and Gomorrah started fighting, land was destroyed, and the economy took a nosedive. To run away from the destruction that THEY had caused (like some PUNKS!), the kings took all of their food and possessions, and ran back to whatever rat-hole they had come out of (I'm sorry. That's a bit harsh. Haha). Here's the thing, though-they kidnapped Lot in the process (I know that Lot is pretty and all, but leave the man alone! Haha)! Abram found out what had happened to Lot, clicked into "fierce Uncle Bear" mode, and quickly went to save his nephew and family. Abram successfully rescued Lot and his family from the World Wussie Federation (I mean, the kings surrounding Sodom and Gomorrah), and Lot and his family returned to Sodom (NOT a good idea!).
God had had enough of Sodom and Gomorrah's wickedness (those wicked, no-good, evil trolls!), and as such, he was getting ready to destroy Sodom and Gomorrah (they had worked his last righteous nerve, y'all!). In light of this, two angels in the form of men approached Lot and told him and his family to leave Sodom immediately (it's about to go down! This place is going up in smoke! Hurry up, get your family and things, and go! Go! Go!). Lot's family made fun of him (IMBECILES! Haha) and didn't take the angels' warnings seriously; Lot himself was hesitant to leave his home (aren't you supposed to be a man of God? Did you not pay attention in Sunday School when your teacher talked about God using his angels to protect and help his people? Haha). Lot's mind was made up for him, however.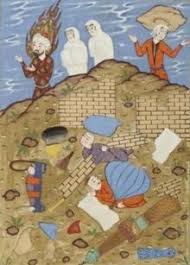 When the sick, twisted men of Sodom found out that God's angels were protecting Lot and his family, they demanded that Lot send the angels out to them, so that they could have sexual relations with them (the men of Sodom loved sin, including the sin of homosexuality). Lot refused to do so, but in a RIDICULOUSLY STUPID move, he offered his two virgin daughters (both of age to marry) to the men instead (Wow, Lot! Way to pimp your own daughters out! I'm shining up your "Father of the Year" award as we speak…NOT! MORON!). The men of Sodom didn't want his daughters, however (thankfully!), and continued to ask for the male angels in his house. The angels quickly grabbed Lot, pulled him back into his house (before he could make an even bigger monkey out of himself. Haha), locked the door, blinded the wicked men (they can't see where the door is! HAHAHAHAHAHAHAHA), and told Lot and his family to GET OUT OF SODOM!
After several stern warnings (Lot needed a kick in the behind (I'll light a fire under his behind and get him moving. Haha)), Lot and his family finally left Sodom; the angels warned them to NOT look back (Don't look back! Don't look back! Don't look back! God's about to blow stuff up! KABOOM! KAPOWIE!). As Sodom and Gomorrah burned to a crisp (I like my kale chips extra crispy!), Lot's wife, being the clueless nutjob that she is, looked back. THE ANGELS JUST TOLD YOU NOT TO LOOK BACK, WOMAN! WERE YOU NOT LISTENING?! AS MUCH AS YOU LIKED TO HEAR YOURSELF TALK, WE'D THINK THAT YOU COULD LISTEN FOR A CHANGE! THERE'S A REASON WHY GOD GAVE US ONE MOUTH AND TWO EARS-LISTEN TWICE AS MUCH AS YOU TALK! Sorry. Haha. When Lot's wife foolishly looked back, against the angels' warnings (who were sent by GOD!), she immediately turned into a pillar of salt (Yes! She turned into ACTUAL salt, the type of salt that you all used to season your 4th of July meals with! I wouldn't want her goofy, backwards behind anywhere near my food. Haha).
Lot and his two daughters quickly fled to the mountains, in a city called Zoar. As if Lot's wife wasn't enough of a moron, his two daughters tried to outdo her on the stupidity scale. In light of their fact that their mother was now gone (she's extra salty right now! Are you mad? Are you upset? You seem rather angry and discombobulated right now. Haha), and their father was in his old age, Lot's older daughter convinced her younger sister that they should get their father drunk (intoxicated), have sexual relations with him, and become pregnant by him…just to continue their father's seed. ARE YOU IDIOTS KIDDING ME?!?!?!?! Dumb and dumber actually get their father intoxicated (so that he doesn't know where he is, what's he's doing, or who he's doing it with), sleep with him back to back, both conceive children by him, and their sons become the fathers of the Moabites and the Ammonites.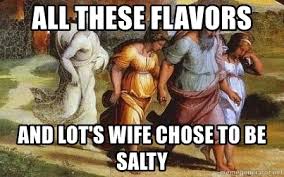 Let me make clear that there is absolutely NOTHING funny about rape (forced sexual relations against one's will) or incest (sexual relations between two people too closely related to each other, but not married to each other-such as two cousins, two siblings, and/or a parent with his/her child). Rape and incest are both terrible, awful, wrong, demented, sick, degrading, demeaning, disgusting, disrespectful, sinful, and just outright BAD (and any other negative adjectives we can think of). I am just floored that Lot's two daughters, these scum of the earth, trash bag lunatics, ACTUALLY THOUGHT (as in they discussed these ideas OUT LOUD, where they could hear themselves and one another speak) that it was OK to get their father drunk, sleep with their father against his will (they both RAPED and committed INCEST with their father at the same time), and become pregnant by their own father…because you bat-crap crazy nutjobs wanted to preserve Lot's seed?! Where's my Smith and Wesson?! I need to thin the herd right now (that level of stupid should never be allowed to breed). Haha.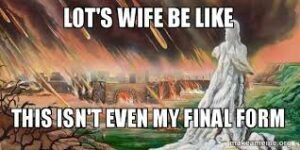 In light of the wonky details of this story, I will not attempt to do a modern-day remix of it; there's no way to make rape and incest funny (I do have some dignity and standards. Haha). However, I'm full of gifts (Ho-ho-ho! Merry Christmas!), and will leave you all with this cute YouTube video from Geethanjali Kids-Rhymes and Stories, further showing how Lot survived the Attack of the Brain-dead Buttheads (i.e the men of Sodom)!
Geethanjali Kids-Rhymes and Stories-"Sodom and Gomorrah – Holy Tales From The Old Testament – Bible Stories" (YouTube):
With that, I love you all, God bless you all, and I'll see you all on the next one!
-Carletta